Pipe, Valves, Fittings & Flanges in Corpus Christi, Texas
Prompt Service. Innovative Solutions.
Do you need to purchase stainless steel pipe for your chemical processing facility in Corpus Christi? Are you looking for a valve that regulates flow or is it more important that your valve relieves a certain kind of pressure? Is your company looking to purchase specialty pipe fittings?
Industrial Pipe & Valve is the best choice for pipe, valves, fittings, flanges, and industrial supplies in Texas. Equipped with over two decades of experience, we have an array of machining services to fit your needs.
Our team has worked with a variety of companies throughout the Gulf, including Corpus Christi—on projects both big and small—and can use our expertise to help you find the ideal industrial equipment solution for your project.
Ready to see how we can help? Give us a call at (409) 736-7667 or fill out a contact form and let's talk about industrial valve and pipe services for your Corpus Christi business.
Products We Offer
Pipe in Corpus Christi, TX
Industrial Pipe & Valve provides businesses throughout Corpus Christi with an array of pipe sizes and grades to fit your needs. We sell three primary types of pipe: carbon steel pipe, stainless steel pipe, and chrome moly pipe. We offer a variety of sizes and grades to suit your project's needs, depending on your industry and what the pipe are transporting. Our pipe offerings include:
Electric Resistance Welded Carbon Steel Pipe (ERW)
Stainless Steel Seamless/Welded Pipe
Chrome Moly Pipe
Exotic Alloy Pipe
We supply industries throughout Corpus Christi that install, replace, and repair pipe installations, including construction, refineries, oil fields, liquefied natural gas facilities, pipeline construction firms, and maritime vessels.
Do you need a Corpus Christi pipe distributor? If so, there's only one name to know—Industrial Pipe & Valve. Call us today at (409) 736-7667 or contact us online for pipes in Corpus Christi.
Valves in Texas
The valves that you choose to regular your process are just as important as your pipe, and we offer a variety of choices. When you pick Industrial Pipe & Valve, you can choose from gate valves, globe valves, check valves, ball valves, butterfly valves, or plug valves. Whether you need isolation, regulation, non-return, or special valves—we can supply any style to fit your project specifications.
Industrial Pipe & Valve sells the following types of valves in Corpus Christi:
Gate valve
Globe valve
Check valve
Ball valve
Butterfly valve
Plug valve
You can order valves in any of the following materials:
Bronze
Cast Iron
Cast Steel
Ductile Iron
Forged Steel
Our valves are available in an array of makes and materials so that you can get the exact products that you need for your project in Corpus Christi or the surrounding areas.
Ready to talk about your valve needs in the Corpus Christi area? Call (409) 736-7667 or fill out our contact form!
Fittings in Corpus Christi
We have an immense supply of pipe fitting inventory for businesses in Texas, including Corpus Christi. We sell your standard options like 45- and 90-degree elbow pipe fittings, return bend pipe fittings, reducing elbow pipe fittings, and tee pipe fittings, as well as more specialized options. We have a wide variety of products to serve the offshore, midstream/transmission, refining/petrochemical, LNG, and power generation plants, including:
Specialty pipe fittings

Split tee pipe fittings
Split cross pipe fittings
Lateral pipe fittings
Saddle pipe fittings
We also offer forged steel pipe fittings and eccentric and concentric reducer pipe fittings. We have carbon steel pipe fittings, stainless steel pipe fittings, chrome alloy grade pipe fittings, and exotic alloy pipe fittings.
We offer the following styles of pipe fittings in Corpus Christi to best suit your needs:
Long radius 90- and 45-degree elbow pipe fittings
Short radius 90-degree elbow pipe fittings
180-degree return bend pipe fittings
Reducing elbow pipe fittings
3R segmentable elbow pipe fittings
5R segmentable elbow pipe fittings
Straight tee pipe fittings
Reducing tee pipe fittings
Barred tee pipe fittings
Cross pipe fittings
Concentric reducer pipe fittings
Eccentric reducer pipe fittings
Cap pipe fittings
MSS type A stub end pipe fittings
MSS type C stub end pipe fittings
Fill out our contact form or call us at (409) 736-7667 to talk about fulfilling your pipe fitting needs with Industrial Pipe & Valve.
Flanges in Corpus Christi, TX
We provide a diverse stock of carbon steel flanges, stainless steel flanges, and chrome alloy flanges to connect your pipe and valve installations. Our options include:
Weld neck pipe flanges
Slip-on pipe flanges
Socket weld pipe flanges
Lap joint pipe flanges
Threaded pipe flanges
Blind pipe flanges

Spectacle (Figure 8) blind flanges
Paddle blind flange
Blind spacer flange
Blind spacer sets (paddle blind & spacer blind)

Oil field pipe flanges

API 6A weld neck pipe flanges
API 6A blind pipe flanges
Material: 45K – 75K yield pressure

Pressure/schedule range: 2K, 3K, 5K, 10K, 15K, 20K (all pressures in PSI)
Pipe Flange Materials for Every Need
At Industrial Pipe & Valve, we have what you need to complete your project—no matter how big or small. Our pipe flanges come in a variety of materials so you can determine which option is the best choice for your Corpus Christi, TX project. These materials include:
Low-temp carbon steel pipe flanges
High yield pipe flanges
Chrome alloy pipe flanges
Exotic alloy pipe flanges
HDPE pipe flanges
Aluminum pipe flanges
And more!
Interested in buying pipe flanges from us? Give us a call at (409) 736-7667 or fill out a contact form and let's talk.
Fasteners & Gaskets in Texas
The fasteners that we sell include a variety of industrial-grade materials. We sell the following types of gaskets in Corpus Christi, TX:
Spiral wound gaskets
Corrugated metal gaskets
Ring joint gaskets
We carry a wide variety of fastener types and grades. From stainless steel studs to galvanized nuts and washers we have what you need to finish your job under budget and on time, including:
Studs
Nuts
Washers
Specialty bolts
No matter the type of gasket or fasteners you're looking for in Corpus Christi, TX, we're the company to call at (409) 736-7667.
Industries We Serve in Corpus Christi
We've worked with a lot of businesses here in Texas to get them the piping supplies that they need. We make sure that you get the best out there so you can get your jobs done quickly and efficiently. Some of the industries that we've worked with are:
Refinery
Construction
Oilfields
Shipping
Fabrication
Manufacturing
Engineering
Maritime
Offshore drilling
Liquefied natural gas (LNG)
Pipeline
And more!
High-Quality Industrial Supplies in Corpus Christi, Texas
Interested in buying pipe, fittings, flanges, or valves from Industrial Pipe & Valve? Give us a call at (409) 736-7667 or fill out a contact form today.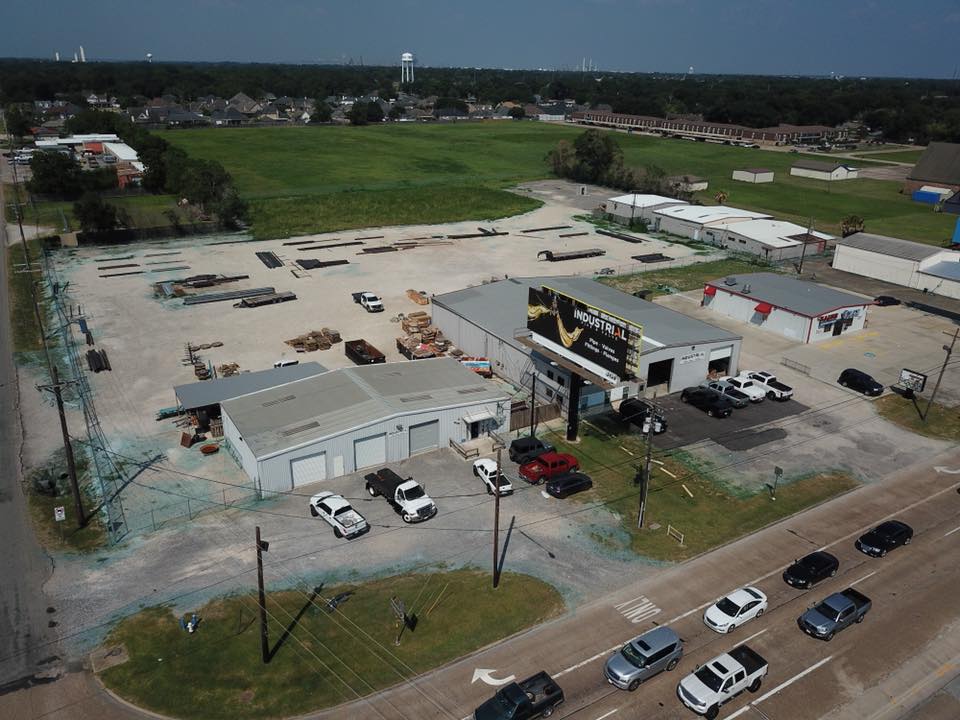 We provide industrial supplies to the following areas in Corpus Christi, Texas:
78417
78418
78419
78374
78380
78401
78402
78404
78405
78406
78407
78408
78409
78410
78411
78412
78413
78414
78415
78416